Need a break from working in the Garden? Visiting a public garden is a great way to get out on a nice day. Many farms and nurseries also have display gardens. These are some of my favorites as well as some that I keep meaning to visit. Many are free, but some have admission fees.
Gig Harbor/Key Peninsula
     Sehmel Homestead Park hosts a WSU Pierce County Master Gardener Demonstration Garden. It is open to the public Wednesdays 9-11:30 am year round. They host Plant Clinics the second Saturday of the month 10am – 2pm, April through September.  It features a raised vegetable garden and a Heritage Garden.  Wilkinson Farm Park Historic Homestead also has a Community Garden plus a 16-acre park to explore.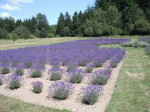 Blue Willow Lavender Farm: The owners give personal tours & historical talks & demonstrations about Colonial America. Just between Vaughn and hwy. 302 on Wright Bliss Rd., it is open Tuesday-Saturday from 10-5 pm. If you can't get enough of these blissfully fragrant flowers, explore at the Sequim Lavender Festival in July.
Kitsap & Olympic Peninsula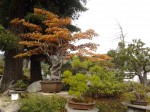 Elandan Gardens: If you like bonsai, this is the place for you. The artist, Dan Robinson, may give you a personal tour if he is out working in the garden and will explain how the trees grew and were trained and how an estimate of their age is determined. This waterfront garden is accessed right of the highway in Gorst. Their shop is filled with items for home décor.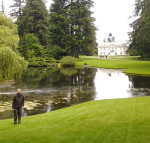 *The Bloedel Reserve's 150 acres are a blend of natural woodlands and beautifully landscaped gardens, including a Japanese Garden, a Moss Garden, and a Reflection Pool. Regular hours: Tuesday-Sunday: 10am-4pm.
    Heronswood in Kingston was founded by Dan Hinkley, a renowned Plant Explorer and Nurseryman; it is now owned and operated by the Port Gamble S'Klallam Tribe. It features thousands of plant varieties that have been carefully documented, cultivated and preserved for scientific, educational and ornamental purposes. While it is undergoing renovation, Heronswood is only available for wedding and special events. They occasionally host and Open Garden & Plant Sale.
    Albers Vista Gardens is an oasis in the heart of Bremerton focusing on sustainable landscapes. It is open for private tours and events.
    Whitney Rhododendron Gardens is one of my favorite stops when I do the loop around Hood Canal. It is located in Brinnon on the Olympic Peninsula between Quilcene & Hoodsport.
Tacoma
    Lakewold in Lakewood features 10 acres of rare and native plants, "State Champion" trees, rhododendrons, Japanese maples, stunning statuary and a Georgian-style mansion. It is open 10-4, Wednesday-Sunday, April to September; Friday-Saturday, October-March.
    Point Defiance Park encompasses 702-acres.  The Rose Garden was my wedding location. You may also enjoy the Japanese Garden and many other formal flower beds.  The Rhododendron Garden, at the beginning of 5-mile drive, features large, old rhododendrons in a forest setting. The Northwest Native Plant Garden is tucked away to the right as you leave the zoo's parking area through the main entrance.  Just outside the park, Jungle Fever Nursery specializes in unusual, exotic landscape plants.
    The W.W. Seymour Conservatory in Wright Park is a Victorian Style greenhouse. It features tropical plants and a seasonal flower displays. Just 8 blocks south of Wright Park, Gallucci Learning Garden is an urban demonstration garden designed to foster a gardening community and to teach people how to grow and cook fresh, nutritious fruits and vegetables.
Puyallup & Orting
    The Puyallup Master Gardener Demonstration Garden is located directly across Pioneer from the WSU Puyallup Research and Extension Center. It features a Children's Garden, Vegetable, Herb, Rose, & Shade Gardens & a Composting Demonstration Area.  It is open to the public Tuesdays and Saturdays from 10-1pm, March to October.
    Chase Garden is a 4½ acre Garden Conservancy preservation project located south of Orting near Mt. Rainier.  It features Japanese-inspired ponds and bridges, an alpine wildflower meadow, and a woodland garden with native shrubs, perennials & groundcovers. It is open to the public on Fridays, Saturdays, and Sundays from April through October, from 10-3 pm.
Federal Way & SeaTac:
    *Rhododendron Species Foundation Botanical Garden is home to one of the largest collections of species rhododendrons in the world, with over 700 species from North America, Europe, Asia, and northern Australia. It also is the home of the primary study garden of the Hardy Fern Foundation and its Victorian Stumpery. It is located on the Weyerhaeuser campus just off of I-5.  The Pacific Rim Bonsai Collection, at the same location, features 60 artistically miniaturized trees. Both are open Tuesday to Sunday, 10-4pm.
   The Highline SeaTac Botanical Garden covers 10.5 acres of display gardens of roses, irises, daylilies, fuchsias, and more, woodlands, and trails. It is open from dawn to dusk every day.
Kent & Auburn
    Soos Creek Botanical Garden in Auburn is part of an old homestead. The garden covers 22 acres, featuring a heritage flower garden, vegetable garden, an aviary, a pond garden, cedar grove and native woodland. It is open Wednesday through Saturday, 10- 3pm (Closed from late Novvember to mid-March).
    Lake Wilderness Arboretum in Kent features many specialty gardens, including Hydrangeas, Daylilies, Rhododendrons, Deciduous Azaleas and native plants. It is open daily, dawn to dusk.
Seattle
    Carl S. English Jr. Botanical Garden at the Locks follows an English landscape style with more than 570 species from around the world. You can enjoy the garden and watch the ships making their way from Lake Union to the Puget Sound or watch Salmon at the fish ladder. The visitor center is open May-September: 10 a.m. to 6 p.m. open daily; October-April: 10 a.m. to 4 p.m., closed Tuesdays and Wednesdays.
     Washington Park Arboretum is a city-owned 230 acre park, but the University of Washington owns and manages the trees and plant collections. A Japanese Garden is adjacent to the arboretum. Also at UW are the Medicinal Herb Garden, Erna Gunther Ethnobotanical Garden, and the Center for Urban Horticulture.
    Kruckeberg Botanic Garden has a unique blend of Pacific Northwest native plants and unusual exotics in a naturalistic, wooded setting. Located in Shoreline, Washington, the garden was founded by noted botanist Dr. Arthur Kruckeberg and his wife Mareen. It is open to the public Friday, Saturday and Sunday. A little further south is the Dunn Gardens, designed by the Olmsted Brothers. Reservations are required.
    The Seattle Parks & Recreation manages many gardens including the Woodland Park Rose Garden, Volunteer Park and Conservatory, Kubota Garden, and Beacon Food Forest at Jefferson Park.
    Seattle Tilth operates many organic farms & gardens throughout Seattle. The Good Shepherd Center in Wallingford is their original garden designed to teach organic gardening methods.
    Bastyr Medicinal Herb Garden and the Sacred Seeds Ethnobotanical Trail in Kenmore are open to the public for self-guided tours.
    Seattle Center has a few gardens tucked away amongst its other attractions, including the new Chihuly Garden and Glass.
    Streissguth Gardens is a privately owned hillside garden in the Capitol Hill Neighborhood, but visitors are welcome by appointment.
   In West Seattle, South Seattle Community College Arboretum features the Coenosium Rock Garden and contains one of the best collections of dwarf conifers. Adjacent is the Seattle Chinese Garden, which has a traditional Chinese courtyard and pond with koi fish. Also in West Seattle is the *Walker Rock Garden, a whimsical stone sculpture garden built in the backyard of a Boeing Mechanic. It is open Sunday afternoons in the summer.
    The Bellevue Botanic Garden has several special gardens featuring, fuchsias, alpines, groundcovers, perennials, and rhododendrons. It is open daily from dawn to dusk.
Olympia
    The Delbert McBride Ethnobotanical Garden at the State Capital Museum is an interpretive display garden featuring native flora used by Northwest Natives for food, medicine, tools and clothing.  Unfortunately, The Capitol Conservatory was closed in 2008; a citizen group is trying to rescue it from demolition.
    So much to see & do!
What are your favorite gardens?
Please let me know of any more you think I should add or any corrections.